THE "DAZ MUSIC" STORY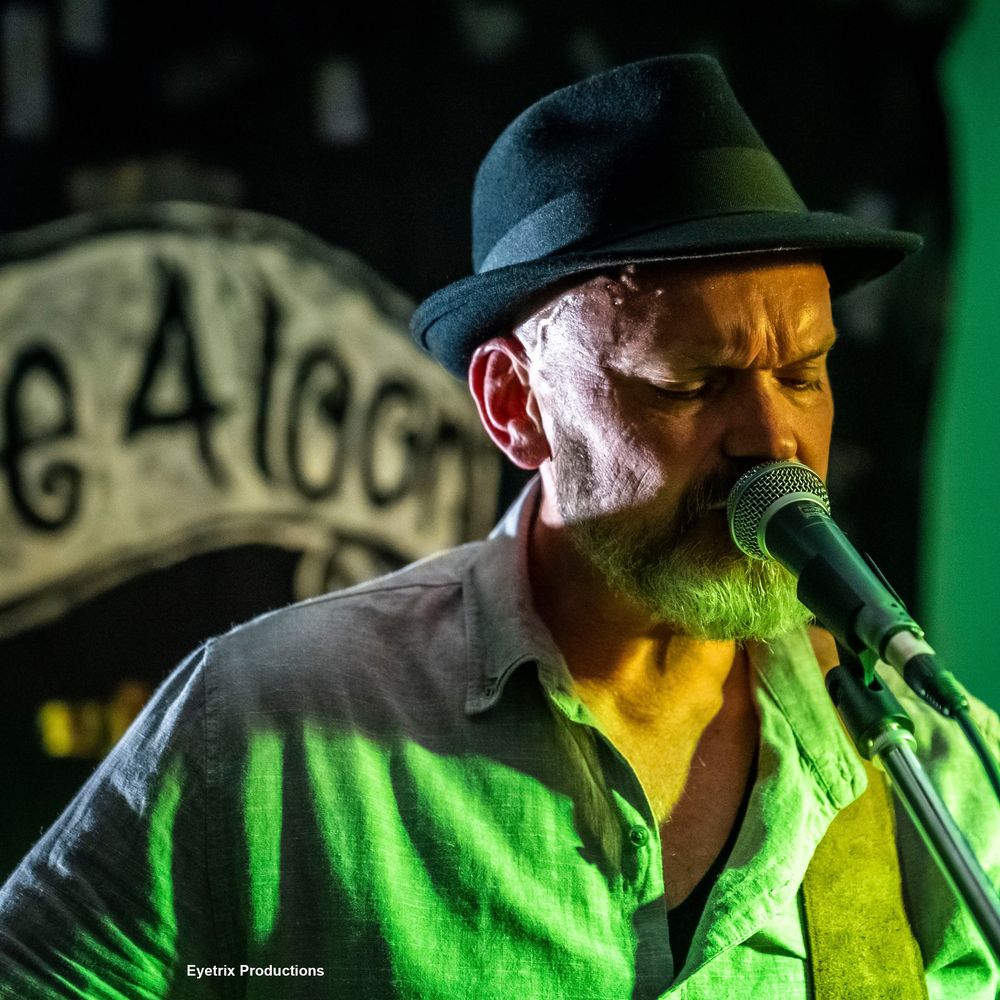 Singer/songwriter: chilled-out acoustic vibe... out of Orange, NSW.

Original tunes that evolved from the old high school days in a band called "No Frils". Two members Smith and Burgess reconnected 20 years later and still found the musical and lyrical magic that was born of those good old days.

We have enjoyed writing and recording these songs of our lives and I am now enjoying playing them on the live circuit. Enjoy with a good wine and relaxed vibe.
Daz
Short Bio
A relative "newcomer" to the live music scene, Darren Smith has built a strong following in his home town of Orange, NSW. While he is often "fixing hearts" in his professional Paramedic career, he can found most weekends "breaking hearts" with thoughtful lyrics, moving verse and musicianship. 
Having spent many years' quietly song writing and recording, Darren has built a strong following via his solo music venture "daz music" and has now stepped out into live performance. 
Heavily influenced by the late 80's rock and pop scene, he has crafted a sound that continues to pay homage to this era's unique style, while giving his new-found love of country music the space it deserves in his delivery. 
Darrens country influences have been well received at such iconic events such as the Tamworth Country Music Festival. His original song "Wait for Rain" (2019) was selected for the Grand Final of the fRETfEST Songwriting competition where he was invited to present it live on the main stage. 
He draws similarities to the current new-wave of country/rock cross-over acts such as Keith Urban and John Mayer. A few moments into any of his well-crafted original songs will induce a sense of self-reflection on your own life, loss and love with a hook-line that is guaranteed to get your foot tapping. 
His 2018 debut EP release "Dive Into You" was well received locally with songs inspired by his recent road trip down the west coast of Australia. His follow up single "Without You' (2019) takes you further down the beaten track that is rural life in NSW. 
2021 has seen the release of "Brave", his first full length album. It displays precisely what a compelling lyricist, musician and producer Darren has become. The title track delves deeply into the complicated and personal relationship between father and daughter. 
"… if Brave is anything to go by, it's clear Smith is as immensely skilled at stabilising the mind through music as he is at stabilising the body through emergency response." - Sam Bolt (Western Advocate). 
You can find Darren's music, performance dates and other socials online at darrensmithmusic.com. 
Extended Bio
Darren Smith is a singer/songwriter living in the Central West NSW town of Orange. A distinctive acoustic country/rock sound is a tribute to his musical influences of Keith Urban, John Mayer and U2. Darren melds these into heartfelt lyrics, addictive hook lines and unique guitar styling within his original material. 
"an accomplished guitarist and sensitive lyricist" – Paul Kelly (2018) 
In an area known for it's cellar doors and a vibrant food industry, his acoustic live act is a perfect match to the laid-back, country style of the town he calls home. Like a good bottle of cool climate vintage red, Darren has matured into a complex musical blend whose music goes down as easily as that glass might on a cold winter's night. 
As a senior Paramedic, he has pondered the importance of personal mental wellness and the prominent role music plays in his life. Armed with this reassurance and a positive message, he has returned to his musical roots and stepped out live once again. With an extensive catalogue of self-penned material Darren conveys intense lessons of life, love and loss in his sensitive and thoughtful lyrics. 
Darren has quickly established himself as an accomplished live performer in and around the Central West. He can regularly be found on stage at local venues such as The Agrestic Grocer and the sought after 4onthe4loor stage at The Victoria Hotel. He has ventured out to venues far and wide including Cowra, Mudgee and Canberra and regularly makes the drive west towards Dubbo to perform. 
Darren is an active member of the local JAM Orange (Just Add Music) association. This organisation actively promotes live, local talent in the Orange area. He also works closely with SOMAD (Songwriters & Original Musicians Dubbo) in their expanding promotion of the original music scene in the central west. He was recently been given the honour of the "Artist Spotlight" in their online publication. 
Darren is equally at home on a festival stage with recent stints at Inland Sea of Sound at Bathurst and the inaugural Under Western Skies Festival at Dubbo. One of his many highlights in 2019 was making his Tamworth debut on the Fanzone Stage among other appearances at the festival. 
The November 2018 release of his five track EP "Dive Into You" showcased songs written on the road while travelling the west coast of Australia. The title track instantly transports you to the beach upon where it was written. 
The release of his new single "Without You" in August 2019 has a distinct country drive in its arrangement and feel. This again is inspired by an outback NSW road trip and gives an indication of the influence country music has increasingly had in Darren's writing style, song construction and career. 
2021 saw the release of his first Full length album "Brave".  This self produced collection of original material has provided the opportunity to further consolidate Darren as indeed a compelling lyricist, musician and producer.
"… if Brave is anything to go by, it's clear Smith is as immensely skilled at stabilising the mind through music as he is at stabilising the body through emergency response." - Sam Bolt (Western Advocate).
While Darren is a relative "new-comer" to the music scene he carries a sensitivity, maturity and delivery that can only come with age. This combined with his fresh approach to performance, song writing and story telling makes for an exciting future career in the industry.
Please find below a list of typical songs in my playlist. I can of course play any song you may require for your function or event. Please feel free to discuss this with me.